2004 a year with calm waters, like a breath of fresh air that was breathing over the community, from Andy's Goldmine, to the new click convention in Paris, things where pretty good in 2004.
The Daily Click: Andi's TDC Goldmine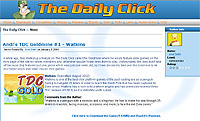 DC Admin Sejj came up with a new idea called The Gold Mine where he would feature old games on the front page for newer members. Unfortunately the idea was abandoned after 1 game so DC Admin Andi decided to pick it back up in 2004 and renaming it Andi's TDC Goldmine. And it worked out really well. New users enjoyed seeing some classic games on the front page while the older users remembered the games fondly. This was also the year where Shab joined the Admin Ranks. Click on the link for his first news post as a Admin. The Daily Click also continued to grow in 2004 with a promise that a new version of the daily click was in the making...
The Extension List
Chris Branch decided to make a site called The Extension List that contains a complete list of all the mmf extensions out there.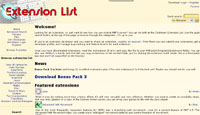 The site was designed really well so you could find the correct very extension fast. You could search by file name, author, description or all of the above, or browse the extensions yourself by category.
New Site: Klik Academy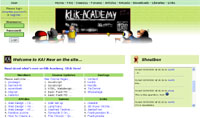 In 2004 Pete Nattres worked on a new look for his site Klik Academy, when it was finished after 6 months of hard work everyone loved it. Klik Academy is a site where people can take courses that will help you create games, from making sprites to learning programming languages its all there. (you can click on the picture for a bigger view)
New version: Klik Me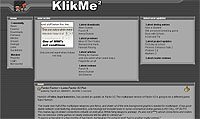 Creator of the site Klik-me Jannis Stoppe decided to give the site a new redesign with new features. He called it klikme2 and everyone agreed that the new redesign was well worth the wait. Klik-Me still continued to grow strong in 2004 and had plenty of visitors both on its site and its forum. You can click on the picture on your right for a bigger view of the 2004 front page.
New Community Site: Klik-Union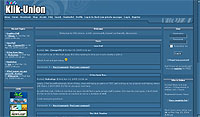 Mid 2004 saw the coming of a new community by the name of Klik-Union. Despite taking an unoriginal approach by basing the site on a phpBB forum system, it gained a small, friendly and regular following. New features soon made an arrival, such as a rewards system for posting and a shop where you could buy forum related particulars. Not to mention an arcade. Despite getting off to an uneasy start due to server trouble, KU is swiftly moving on, gaining a bigger following and even more features. Hopefully KU will become more known and will earn it's place within the clicking community in the not too distant future.
A-Coders Continued Strong....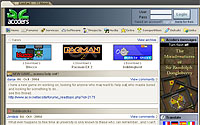 In 2004 game company A-coder's was still going strong releasing great games and in the same year the website of A-Coders got a really nice new re-design and code.. The new website had many new features and made the site very interactive with its users, with nice bright graphics.
Click Convention 2004
Ahh yes 2004's Click Convention was held for the first time in Paris! Many people from all over the world visited this convention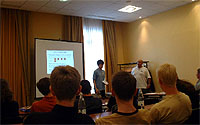 and this one was special in a way because clickteam was displaying previews of the long awaited MMF 2. After the convention Clickteam released some more information with pictures in a nice handy .html file that listed much more details on mmf 2. You can still download this html file right here.