This was the year the click community came back with full force
The Return Of The Community Sites - The Daily Click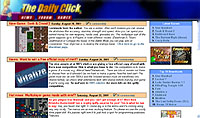 Even if it was online for a short period of time some people including Rikus saw potential in the The first daily click site. Chrisd creator of Total Click asked rikus if he would think of creating a new Daily Click. Rikus told Chris that the only way a site like the daily click could really work if it was interactive where people could post there games and reviews. Chris promised him he would code it if rikus wanted to bring the daily click back. And so it began, Chris finished coding the very first interactive DC version in the year 2001, and while the site had a slow start, because it was updated all the time the site started growing, and more and more people started to visit the site. This was also the year where Shadowcaster joined the daily click team.
The Return Of The Community Sites - TFGF/Klikkety Klik (2nd year)

Andi talks a bit more about TFGF in 2001: TFGF's host "83rd Stasis" ran into trouble and closed down pretty quickly. Two community sites and a popular anime blog took its toll on Ranma's bank account. Bart (Gaming World) offered to host TFGF, so it moved there. In June, TFGF closed down. I went on holiday, and when I came back it was gone. It was a real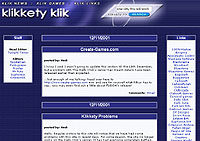 bandwidth hungry site :) At the end of 2001, I started up Klikkety Klik with Akira - and then Twiterror took over the helm of Klikkety Klik while I worked on TFGF Fusion - which sadly never saw the light of day. During the end of 2001 Klikkety Klik gained more visitors and got even more popular, this site was also updated all the time with news and games. Andi who coded TFGF went off and started coding on a new community site.... (click on the picture for a bigger version of the 2001 banner of TFGF on your right, and click on the picture on your left for a bigger version of Klikkety Klik)
In other news..
* Kevin Smeth decided to make a click Radio show with some of his friends, all the episodes in my opinion where great filled with humor about the click community. Update Thanks to Nim we now have the third episode for you to listen to. All the other episodes are still lost:( Click here to listen to the Episode in mp3 format! *Strong and adult language*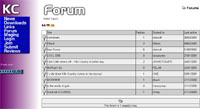 * Before Clubsoft became connected to the daily click he had his own community site called: Klik Country. It had a download section and even a forum, the site was .asp based and had a nice look to.
* Marcello released his Mode 7 extension for mmf. With this extension it was almost possible to create Mario Cart Style 3d games. I say almost because it was not perfect just yet. Locked 7 also got released again as a freeware game.
* The now released 3d gamemaker was announced, and while the daily click had a small summer stop Andy kept updating his TFGF site.
Total Klik Say's goodbye...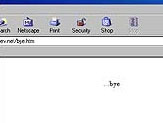 In july Chrisd suddenly announced that he was quitting his famous Total Klik site! He posted a small text with "bye" on it. The Daily Click posted the following report: Chris has shut his site down, fans of the site who did not visit the forums are in big shock and are wondering why this happened. Well it seems that because people where flooding the total klik forums chris shut his site down. On the boards at tfgf Chris told everyone that he wont bring the site back. Damn. this is a real shame. Lets hope chris will change his mind in the future. Well and he did change his mind, butttt more on that later.
* In august of 2001 Rikus uploaded a messed up database of the daily click site by mistake. The site went down for a few days because of that. Lucky for me Chris Davis has a backup but a whole month of news was gone. Thanks to the help of Burfelt the daily click got some of its news back and i am still grateful to burfelt and Chris of that today.
* In September of 2001 The Daily click got its picture in Pc-Zone Uk thanks to Canaryman We also got a mention in Pc-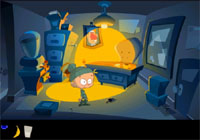 Powerplay.com.au thanks to RyhsD for that. Spindrift from the 100% vitalize fame had also been featured in a magazine called: PC Utilities Magazine. We congratulate Spindrift with this cool accomplishment.
* Igor gave everyone a sneak preview of his upcoming game: Ignac 2. This is what he had to say about it: Ok, here's first development picture from Ignac2. It's still in the rough state (as most of the other backgrounds i already drew). There's still some details to add and i need to improve shadows, but basically that's it.
The most wonderful time of the year.. Clickteam Jamagic and mmf 1.5!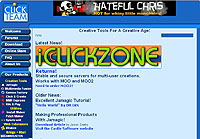 December the holiday season! This was the month of presents, games and the special chat event with clickteam. The chat with Yves & Francois the founders of clickteam was a huge success and you can read the whole log of it made by ShadowCaster right here. You can check out Clickteam's 2001 webdesign by clicking on the picture on your right.. Also 2001 was the year where Clickteam released the beta version of its new 3d creation tool: Jamagic, everyone jumped on it to download it. While jamagic was not click based like clickteam's other creations it did have a very easy to use script language. In december 2001 Clickteam also released an upgrade to MMF called MMF 1.5. This new version made mmf a better overall package filled with new features, objects and fixes.

To Leave or not to Leave..!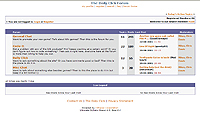 There always comes a time for some where they want to give up and leave the community for any number of reasons, its a good thing then, that most people come back, including myself. Before the daily click had its own forum it was using a normal ubb forum, for some reason i could only retreive 2 pages from this 2001 forum, the main index and the Circy Farewell topic. It seems that Chris (now a admin for the daily click) at one point in 2001, had enough and wrote the following Farewell Topic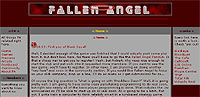 New Click Company: Fallen Angel (Faind)
Fallen Angel (or Faind as it now known) was created in 2001 and was started up by beau and Riko. The site had a nice read design, and was updated often with news about there upcoming projects. Even then you could see the faind was not going anywhere and was here to stay for a long time. You can click on the picture for a bigger view of the front page.