2003 was the year where the daily click got a new host, planet klik got in trouble, and a new community site emerged from the deep waters...
Hosting is fun..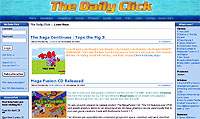 As 2003 began, the hosting company for the daily click got in trouble and just dropped the ball, while i was over in Canada at the time, Shadowcaster had to find a new host quickly, he did and the site got back online, about a week later the domain name followed and things where backup and running. This year Pete Nattress and Wong joined the DC-Admins Ranks. Click on the links for there first posts as a admin on the site. Rikus also came back in the middle of 2003 to update the site. Notice the different top in the picture that was later changed to the (2004/2005) design.
Goodbye Planet Klik, we miss you..
Planet klik was doing pretty good in the first half of 2003, but for some unexplained reason the site went down around the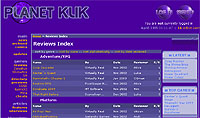 summer of 2003 and never returned. Instead Andi started to link to Peterg's new klik site called: Klik News . Klik news was a new site mainly focused on bringing you the best gaming news from around the community.
Click Convention 2003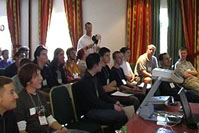 A new year a brand new click convention. The click convention of 2003 was even more packed then the one from 2002. Lots of people where able to make it , and even our DC admin Circy visited the hotel the convention was being held in. Circy even wrote a big report that year about his experience with the fellow clickers and the makers of mmf that he joined there. I highly recommended reading his article that he wrote about the experience. A video created by Jason Darby was also released on the official convention website at: http://www.clickconvention.com
Games Gimme more Games!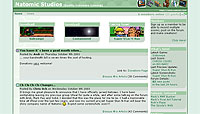 * 2003 was also the year where both game companies: Natomic and Faind where producing games if there was no tomorrow. Both companies made some really classic games and i suggest you have a look on there websites to see the classic games they made. Also in 2003 Natomic's site got a brand new make-over. The site looked great and it had many new features including an option to collect sprites on the site if you where interactive.
New community site: Klik-Me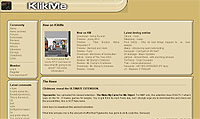 In 2003 Jannis Stoppe decided to create a new Community site focusing on news and reviews, he gave the site its name: Klik-Me. The site had a bit of the same vibe Planet Klik had, and Jannis was very good in keeping the site up-to-date. He also coded the site himself and created a very nice design to. Click on the picture on your left for a bigger view of the 2003/2004 design of Klik-Me. Jannis was also kind enough to upload 1 full page to his webserver right here.
New Community site: ClickIsland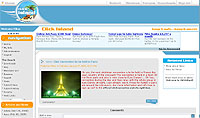 When Rikus moved from Holland to Canada at the end of 2003, he also created a new community site that was a bit different called: Click Island. On clickisland people could submit there games and if a game was not reviewed within 7 days it would be booted of the site. Also rikus tried to add a interview with every game that he reviewed. After a while clickisland also gained admins and people who wanted to review games to. Its forum became very popular including the now very well known: "Picture me this compo" where people had to guess what game was behind a scrambled game picture.