2007 was the year were lots of new features were implemented into the daily click site, it was also the year java was announced, klikcast was born and another convention was held. A big year so lets dive right into the action...
Lots of classic games where released in 2006, lets start the year with some outstanding games that where released at the beginning of 2006....
Flava's The Weekly Click and Circy's Talking Topic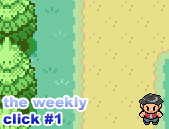 Flava decided to start a cool new project called the weekly click were in one fell swoop you would see lots of news on the click community on the front page of the daily click website. In total 21 weekly clicks were made. On that same note current Admin Chris Street created a talking topic were people could respond to the question of the week. 20 talking news posts were made and you can still all find them here. Small comment from Flava from the first weekly click: For the last few years, all that has been posted regularly is information about new games and the game of the week - so we thought maybe it was about time we spiced up the front page a bit. Every Sunday I'll be posting the latest click news in the past week.
1up.com 101 best freeware games 2007
1up also released a list that featured there 100 best freeware games and some click games were included to! The list is still located at this link right here.
Klik Union gets a make-over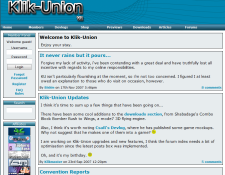 2007 was also the year were click site Klik-Union got a nice smooth make-over. After strenuous toil and hardship on Joe's part, Klik-Union V2 is finally here for your viewing pleasure. Much has changed as you can quite plainly see, not only are we free from the confines of phpBB, but we have a number of new features which should cater to the needs of developers and designers alike. While the updates were very strong at first (they even had a really cool interview with Nifflas on there about his latest game Knytt Stories. The interview was very well written and still definitely worth a read today. The last update on the site was in november of 2007. While Bishie wrote the following in 2008 to keep the site up in the air: I have every intention of getting KU back on track, but until I know where I stand with my upcoming job opportunity, and have a laptop of my own, there's little I can do myself. Hopefully it will return someday
Daddy Rikus #2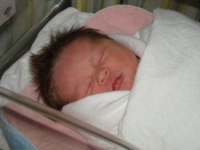 And just as in 2005 i just have to mention that in 2007 my second baby girl was born. Her name is Anneliese. I could not be any prouder.

Daily Click Hosting Troubles (Again)
And what would be a year without hosting issues for the tdc. This one however came as a shock when clubsoft received the following email from our provider in 2007: Dear Customers: Please accept this letter as a formal notification of intent to terminate service and for you to seek an alternative provider. The Company is providing you with a two-week notice to afford you the opportunity in obtaining hosting services elsewhere. We intent to fully cooperate with you in assisting you with migration and transition processes upon request, if necessary. This termination is not a result of any wrong doing on your part, but rather the Company is ceasing all business operations at this time. We are grateful for your dedication, business and continued support. We wish you all the best in your business endeavors and it was a pleasure serving you. Yours truly, Customer Care Yikes, this issue got resolved and a new hosting was found, all was good for the time being.
Knytt Stories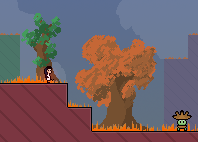 A very popular game in 2007 would have been Knytt Stories created by Nicklas_N. The game was so popular that not only was it a huge hit inside of the click community but it also started to appear on other popular websites and magazines. Niclas writes: In Knytt Stories, each level is its own little adventure. One level is included with the game, where you have to stop a machine that draws the life out of the planet. An official expansion pack is also featured at the website with four original levels.
Natomic Returns!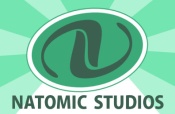 The Natomic Studios group famous for creating many cool games disappeared for a while but in 2007 they returned in a different form, while still making games there website was now replaced by a wordpress blog, as the year continued on rumor had it that the blog was going to be replaced by a facebook page. In 2007 it was still not sure if a real website would ever return.


Click Convention 2007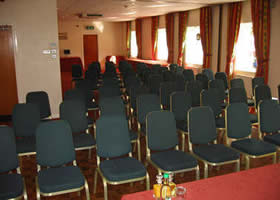 Clickteam had another convention in 2007, lots of really nice stuff was announced and the event got lots of great feedback. 2 reports were written about it. The first one by Chris Street and the second one by Joshtek. Here is a small bit from the report Chris Wrote: Arrived at 8.30am, half an hour earlier than planned. A few other conventioneers were already there, including the Clickteam staff and forum moderators, LIJI, Sphax... can't remember who else. I didn't really get talking to anybody this time, so after I had ordered a hot chocolate I went upstairs to the main room and formally met once again Jason, Yves, Jeff, Francois, DT and Chris Carson before setting up the video camera. Chatted to Yves and Francois a little and clicked (geddit) with Jason. Eventually everyone turned up - including Clubsoft who I wasn't expecting to be there.
24/48 hour compo 2007!

Semphire came up with a great idea to make a 24/48 hour compo, and boy it got a huge response by everyone. It'll start at something like 10pm EST tonight (just under 3 hours from this post's time) and go on for 24 hours. This was later changed to 48 hours as the day continued on. You can still see how the compo unfolded in this forum topic But in the end it was Pixelthief who won with his game called Paradoxysm.
New Admin Broomie!
Broomie joined the admin team in 2007 he started out by posting his first news post in september, that you can still read right here. Hey everyone! For those who don't know me, I'm Broomie or Jamie and I've been a member of this site for a very long time and always had a love for game making. I've always been interested in holding the admin title and doing what I can to make this site better and now that day has come!

Projects I love Projects!
How could we have lived without it! In 2007 the daily click finally received a project/blog page, were everyone could keep people informed about there latest creations. This is what club had to say about it: The new projects section is a replacement for the old previews section, projects will allow owners to add members to their project for group projects, allowing them to post devlogs and news updates about their project. Projects will also have their own forum, a private forum which is accessable by project members, and a public forum which is accessible by anyone else. Project forums are moderated by the project members. The current previews have been moved across as projects, so owners may go in utilize the new features.

Project: Tormishire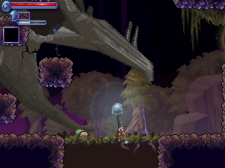 It was also in 2007 that James decided to start a huge project blog about his latest creation Tormishire. He has been steadily updating the project page with news, pictuers and trailers. Lots of people are excited about this one and i don't blame them, this is going to be one great game in my opinion. Comments from James: Spiritual sequel to Sam with the art style n all, but the game play is absolutely different. It's a non-linear adventure game that takes place in a huge world full of twists, strange events and little creatures.

Klikcast #1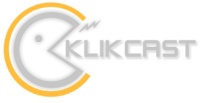 And so it began! In 2007 the first klikcast was born. Klikcast started out as a audio-only show with reviews and interviews surrounding the click community. After the first episode got a good response, soon more followed. It was this same year in december that the show changed from audio only to a video show.

Clickteam Chistmas Showdown!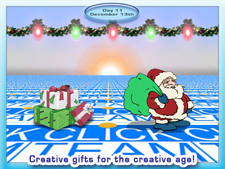 2007 also brought us what is now the annual Clickteam Advent Calendar Were clickteam would release some cool new stuff every day for the holiday season. Every day until Christmas eve Clickteam will be giving special presents out on the news pages. It turned out to be a hit and clickteam continued there tradition, but this is the year were it all started. It was also using this special event that the Java beta runtime was released. You can still read some more about it here.



Wow and that's it for 2007. Another good year, lets see if 2008 can top this one!