Just when you where thinking 2001 was big for the click community, nobody could have ever known how big 2002 was going to get....woohooo:)
The Daily Click - create-games.com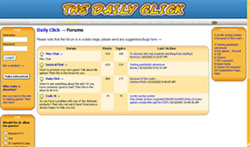 2002 was the year where the daily click got its very own domain name: www.create-games.com. With that the daily click got a new site design and new features. Chrisd and Rikus decided it was time to take it up a notch and make the dc even better. And in January it was done with a new design and a new look the site had a better feel to it, you could even choose your own avatars and finally sign up as a member. It was not without problems, the current server was not very good and kept taking the site down, also to find a new good provider took a while and in the first couple of months the dc had lots of downtime. In the summer of 2002 Rikus met with Clubsoft and Club offered his help, the current version of the dc still could use more improvement there was no real forum yet and there where so many other features that still needed to be implemented. With Chrisd being busy Rikus and Clubsoft decided that the daily click needed to be re-coded from scratch so it would be more secure and more features
could be added on. It took a while but in May of 2002 this new version was done. The dc users could finally enjoy the new dc-points rating system where they would get points by submitting games and reviews, club was still working on the forum at the time, but this was finished soon afterwards. The very first version as you know it was born. In october of 2002 the daily click also changed its color to the now famous blue color design. Thanks to Andi Smith who did the new graphics and he even updates some coding elements on the site. Also clubsoft kept updating the code and adding new features. The dc was in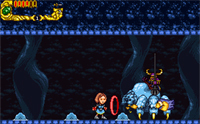 Eternal Daughter released!
The year 2002 also saw the birth of what some say the best click game ever: Eternal Daughter. This platform game created by Blackeye Software hit all the right notes and was an all time favourite. The game won GOTW award and also the Ultimate GOTW award. If you have not tried this game out yet then i suggest you download it right now.
Your Game on a CD
* In 2002 Kisguri also made some great new gaming cd's containing lots of click freeware games. You could buy them on his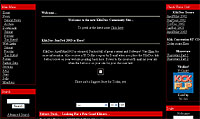 website and he would ship the cd out to you with many games. Of course he would ask the authors for there permission and it was a handy way for all the people out there to get a cd with some great games on it together. The project ran until 2004 and is on hold now (2005) but should pickup again soon. Plans are to add the Klik-Disc project to the DC so users are asked automatically if they want there game to be featured on the cd.
PlasticCow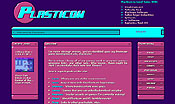 Ofcourse we have to mention a bit about the PlasticCow website. In 2002 Eric Vaughn launched a pink version of Plasticow with Adam Scoble, it was a fun filled click website that many people enjoyed. It had plenty of games and news, and links to other click companies. You can say there was a bit for everyone in this site to enjoy. You can click on the picture on your right for a bigger version.
New Community site: Planet Klik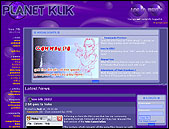 Andi Smith the creator of TFGF site, had something great in store, after months of coding he finally finished his project: Planet Klik. Planet Klik was a new community site where people could download games, read articles, visit the forums, but its main focus was news from around the community and it worked really well. The site also had deflogs that you could create where you could make personal entries in. The site had a great purple design and people really liked it, it was also updated often. Planet Klik would grow right into 2003. (Click on the picture for a bigger view)
Planet Klik Commics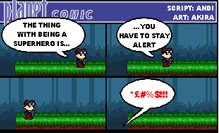 From December 2002 - until February 2003, Planet Klik ran a regular comic, of which there were 6 "episodes". Andi doug them out of his hard drive to share with you all. You can click on the links below to check them out. Planet Comic 1, Planet Comic 2, Planet Comic 3, Planet Comic 4, Planet Comic 5, Planet Comic 6
The Daily Click - Where is Rikus? And New Admins
At the end of 2002 the personal life of main admin Rikus also took a twist, it was the year he met his now currently wife Tanya. Because of this he did not have much time at all, since Tanya was living in Canada and he was living in Holland. He traveled back and forth and had for at least now, leave the daily click to sort everything out. (while i did not know it at the time, i would come back to the dc once i had some more free time, i love this place to much to really leave, i know that now) Because there was so much content being submitted to the site, it was time to hire some new Editors/Admins. Shadowcaster had to go true 68 dc mails to pick the 3 new Admins. They where: Circy, Muz and Shen. All 3 of them would continue to update the dc.
Click Company: Natomic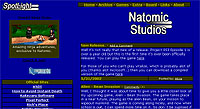 Click Company Natomic was created in 2001 by Andi, Padster and Mr Potassium but there website finally got up in 2002, after a couple of bad experiences with webhost the first version of there site finally went online. They started to release hit after hit and won many GOTW awards on the Daily Click Website. On the picture on your left you will see the very first Natomic site design, you can click on it to make the picture bigger.
Click Company: A-Coders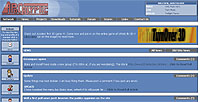 We also have to mention the great company A-Coders, this is a company dedicated to give you many great games. In 2002 there site got a really nice re-design filled with new sprites and graphics, this was also the year the company started to get more and more popular by the day and the company would continue to grow right into 2003/2004 and beyond. You can click on the picture on your right for a bigger view of there new design.
New Community site: Cafelite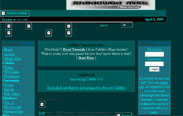 When the original Click Cafe went down, a member by the name of "Cafelite" designed a new community site called: Cafelite, this site was also updated often, with games and news, it used "skins" for its design and it worked well, the site was the first community site to use a "shoutbox" where users could post a msg on the front page. The site's design changed a couple of times but the "green" skin was the skin that was used the most. Also there where plans for a bigger version called: Cafelite 2.0, there was even a news post written about it but by the end of 2002, the site went down and never returned...
Click Convention 2002
Clickteam also had its second convention this year. Jason Darby say's: The Click Convention 2002 was held in September 2002 at the Watermill Hotel, Hemel Hempstead, England. A large number of Users, Clickteam staff and speakers took part in the 2002 convention, from many different backgrounds and countries! We also had a second room where some user demos/games were shown, two of which were Tigerworks Terminal Orbit and Circy's Platform Demo.
Return of Total Klik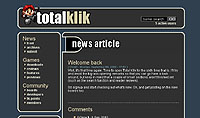 2002 was also the year where Total Klik made a comeback, with a new design and a new forum they where ready to bring you the best news and best games from the click community. If you click on the picture on your right you can see a bigger version of the front page of the 2002 new design.
2-bit CRAZE on Total Klik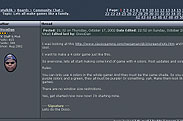 Total Klik also hit the jack-pot when total klik users Discoman started a forum topic where people could only create games with 4 colors. The 2-bit craze exploded on Total-Klik's forums,

with many entries and 55 forums pages filled with discussions. Click on your left for a full picture on how those forums looked like on the Total Klik Website. The craze even went so far that total klik visitor SKN3 made a website that would cover the 4 bit games. Click on your right for a bigger version of SKN3's 4 color game website.

2-bit Craze: Alex the Alegator 4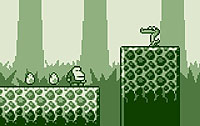 Right in the middle of the whole 2-bit craze Johan Peitz released a fantastic new 2-bit game called Alex the Allegator 4. In its description Johan said: Alex the Allegator 4 is a pure jump'n'run, just like the old classic platform games. Guide Alex through the jungle in order to save his girlfriend Lola from evil humans who want to make a bag of her. You can still download the game at Johan's company called "Free Lunch design"
New Community site: The Desolation Click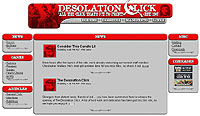 The new Desolation Click community site was a site with a twist, it had a bit of a millitary feel to it including how the news, and reviews where handled, this resulted in a new experience for all the clickers out there and while the site was not online for a long time it did manage to stir some feathers. Click on the picture for a bigger version.
New Community site: The Ministry of Klik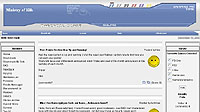 Also released in 2002 was the click community site called the Ministry of Klik. A fun community site with a nice clear design, it was clear that the makers of the site really wanted to make the site work and it had lots of features. You can click on the picture on your left for a bigger view of the site.
Clickteam.com New Design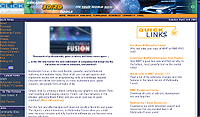 Meanwhile Jeff from clickteam was not sitting still and he redesigned the clickteam's website completely, the site looked much more professional and with every update it just kept getting better and better. The site was also starting to support community sites out there by placing banners and links on all of there pages and forums, this is something they still do today.