The Santa Claus Project
Author:
The Chris Street
Submitted:
24th December, 2007
Favourites:
0
Genre:
Platformer
Downloads:
263
Rated:




Edited By Chris Street on 2/8/2008

Edited By Teh Circy Claus! on 12/26/2007

UPDATED DOWNLOAD: Level 14 Bug Fix and V-Sync enabled.

The concept behind this small game was to create a small experiment to see if people would be willing to contribute levels to something they knew little about. Lots of interest was taken, however, less than half of the people actually submitted anything. Which is absolutely fine.

What you have is a 16-level platformer in which you control Santa. He must kill all the enemies in each level by jumping on their heads. If Santa gets hurt, he loses one of his three lives, but never fear!

If you beat a level, the designer will be revealed, as well as a password to the next level. Type that in on the title screen to access it.

The level designers were:

Myself
Adam
Jake Greer
Popcorn
AndyH
Dynamite 422
Game_Master
Krush Brother
Xerus

Many thanks go out to all who helped with this!

AND NOW!!! IT'S TIME FOR THE PASSWORDS! Each password is in someway relevant to the author or the level!

LEVEL:

2. toothdecay
3. germaine
4. iamnotacheese
5. purpleskies
6. springysanta
7. groansaw
8. dominikdiamond
9. circyclaus
10. cinemasnax
11. chockablocka
12. shiverhistimbers
13. boomrocket
14. scarilyhard
15. ovinebydesign
16. insanelynuts

Try not to use them unless you really, really REALLY need to!



Review This Download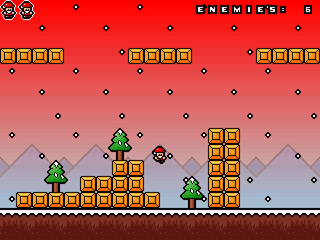 http://www.create-games.com/uploads/circy/santaclausproject.zip (578 kkb )




The Chris Street
Administrator
Unspeakably Lazy Admin
Registered
14/05/2002
Points
50217












Is this worth a look? Let others know!

Favourite