Stargirl and the Thief from the Exploded Moon
Author:
bernie[FA]
Submitted:
27th February, 2008
Favourites:
1
Genre:
Platformer
Downloads:
602
Rated:
Game of the Week Winner




Edited By Rikus on 2/28/2008

What the hey! Some guy with non-brand glasses stole Stargirl's Starscooter! Now, we can't tolerate that, can we? Sure, Stargirl is short, flabby and has stumpy legs, but she sure as hell has DETERMINATION! RAWR!

Stargirl has to beat 17+ levels so she can finally clobber the snot out of the thief. Let's wish the missus luck, shall we?! She also may find unbelievable riches as secret levels if she's careful enough. Hooray!

Stargirl is a pretty slow and sometimes frustrating platformer inspired by Super Mario Bros. 2, Donkey Kong (GB) and Cave Story. It was made during a 2 week period, much like Kitty 1. It's a relatively small game.

Features:

-30 frames/sec
-Worldmap
-Key quests
-Picking up enemies/objects & throwing them at each other
-A few bosses
-4 different endings

It's still almost a beta, but I think I got most of the bugs sorted. The gamepad support is a little wonky. I hope it works well enough.

That's all! Have fun!



Review This Download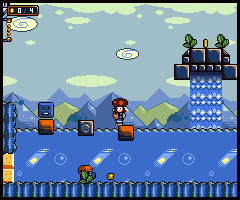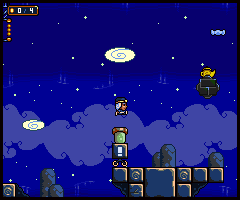 http://www.origamihero.com/stargirl.zip (2.6 mkb )



bernie[FA]
Possibly Insane

Registered
17/10/2004
Points
2099

Is this worth a look? Let others know!

Favourite