BlueGame Concept Level
Author:
Matthew Wiese
Submitted:
21st August, 2009
Favourites:
0
Genre:
Platformer
Downloads:
72
Rated:




Edited By Matthew Wiese on 8/21/2009

Hello guys, Dubs here. Again. I have a concept level for a game I've been planning. It's called BlueGame, I designed the gfx to be simple so I could focus more on the gameplay. This isn't one of those games where an apple/cherry falls upward. (*clears throat* n_n) All the obstacles are put in place, all you have to do is avoid them. Don't let the simple gfx turn you off, this game is challenging.

EDIT: Get to the yellow square to win. (nothinng happens yet)

Red Color - dangerous
Black Color - ground
Blue Color - you
Yellow Color - goalpoint

----

WASD - move

While on a wall, press W to jump off. (You can hold onto walls, not moving platforms.



Review This Download



http://www.mediafire.com/download.php?zni3qomydmm (414.07 kkb )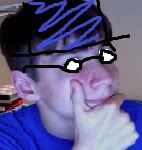 Matthew Wiese
The Fencer
Registered
01/02/2009
Points
149


Is this worth a look? Let others know!

Favourite