Review: Zan-Zan: Episode Two, The Re-Hattening
| | |
| --- | --- |
| Author: | Hill Gigas |
| Added: | 26/10/2007 |
| Overall: | |
| Average: | 8/10 |

So this was a nice little surprise to come across today. I love games like this, simple platformers with clean levels and clear objectives.

Well this one tosses you right in, no beating around the bush. You see a title screen, press space, welcome to the game, watch the spikes.

Presentation gets good marks because it matches the rest of the game. It doesn't try to be more than it is, because it's fun, even at a simple level.

Gameplay is great in my opinion. I mean, the characters and levels are simple, but the platform engine is rock solid. The only improvements I could suggest would be a bit more time to get over spikes, and a bit more direction when jumping upwards to the next screen. Other than those minor things, the play control is excellent.

I liked the graphics for this game. It has a style that I enjoy, which is framed-"cave"-level style. The whole level on your screen is enclosed in a little tunnel-like border. This makes it very cartoony and gives the world a lot more identity than just big open empty spaces. I like the main character a lot, he's just very endearing. I do however think the game would be a lot better if it played full screen. Maybe in the sequel?

Sounds and music are great and fit the game well. The tunes were catchy and the sounds add personality to the character. Nicely done.

Well ok, the game is short, so lastability isn't so great. It still gets decent score because you'll play to the end for sure. It's just a really fun game to play. But you'll hit the end within 20 minutes.

This was a very short, but very enjoyable game. I had a lot of fun running through the two brief but creative levels. I even got to fight a boss before the game was up! Recommended for simple platforming fans.


| | |
| --- | --- |
| Presentation: | |
| Gameplay: | |
| Graphics: | |
| Sound and Music: | |
| Lastability: | |
| Overall: | |

Download This Game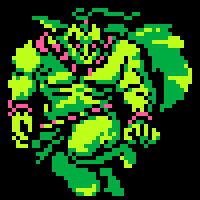 Hill Gigas
Reviewing Madman
Registered
07/06/2004
Points
257