Review: Spacefest
| | |
| --- | --- |
| Author: | Hill Gigas |
| Added: | 04/11/2007 |
| Overall: | |
| Average: | 6/10 |

So here is a little space shooter game made in a few days, but feels like something that took longer. Its well made, pretty to look at, fun to play, but may leave you feeling a bit short changed at the end due to it's difficult level.

Presentation is well enough for a game like this. It gets right to the action, and you'd better learn how to play beforehand! The title screen is also very well done.

Gameplay is fantastic. You control your ship with ease, and it has many nice touches such as your ship banking to the left and right as you move around the screen. Hit detection is dead on, which is essential for any quality shooter.

Graphics are also top notch. There are several nice 3d elements, and the game overall has a very polished feel to it. This could easily have been an arcade shooter from the late 90's, and has a distinct arcade look and feel.

The games sounds are just right. There isn't any music, at least I didn't hear any, but the sound effects make up for that. Your weapon, along with all of the little explosions here and there, ensure that there is always something interesting to listen to. You may hear a moment of silence, but certainly not two.

Lastability is the only real sinker for what could have been a great action shooter. You get one life, period. I understand that the game is more about getting a high score, but it still doesn't give the game itself much life when you've only got one to start with. You won't get far because of the games high difficulty, and you may stop trying after a few too many cheap shots from a stray asteroid. As it is, most people won't play this for more than 5 minutes. However,, I HIGHLY recommend that this engine be used for a sequel with more lives, continues, and more levels! There is a huge amount of potential here for a great game. Everything is here, it's just lacking a few extra chances.

This is a great example of a well made and fun shooter. The high difficulty and lack of extra lives will probably frustrate most gamers, but the skill that went into crafting the game can certainly be appreciated. I really hope to see this game re-released when a few more features have been added. It's a great start to a game that has a lot of potential. Recommended for space shooter fans or creators.


| | |
| --- | --- |
| Presentation: | |
| Gameplay: | |
| Graphics: | |
| Sound and Music: | |
| Lastability: | |
| Overall: | |

Download This Game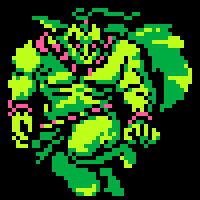 Hill Gigas
Reviewing Madman
Registered
07/06/2004
Points
257