Super Mario: Mushroom Chaos
Author:
ShyGuy182
Submitted:
1st March, 2008
Favourites:
0
Genre:
Platformer
Downloads:
126
Rated:




Edited By NC_Ryan on 3/5/2008

Edited By NC_Ryan on 3/3/2008

In this Super Mario fangame, finished in 2004, Mario must rescue his princess from the grasp of Bowser- again. Travel through 5 worlds ranging from grasslands, deserts, ice worlds and night worlds to finally reach Bowser's castle and free the Princess. Mario can kill enemies not only by jumping on their heads, but by also using a hammer and other elements to his advantage. The game also features musical numbers not so common in a Mario fangame, but work well with the levels included.




Review This Download





http://www.mfgg.net/index.php?act=resdb&param=02&c=2&id=548 (1.05 mkb )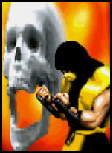 ShyGuy182

Registered
24/12/2002
Points
163
Is this worth a look? Let others know!

Favourite