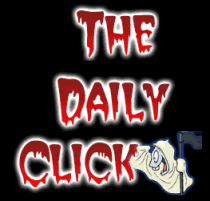 I've got a treat for you all... I've granted everyone gets a 1 week extension for the Halloween Boss Battle Game Jam!
So please make your submission by Sunday the 29th of October (or technically 6am on 30th October UTC to accommodate differing timezones).
Speaking of Halloween games, as I posted on the TDC forums I am looking for the following Halloween games previously posted to The Daily Click: Slasher Boy Halloween Competition Demo (PixelRebirth),  Halloween chapter one (final version) (JAY), The House (v2.00) (Ryan Bloom), To Darken My World Compo Edition Demo (Xhunterko), Quarantine (Aden) and Pac Trip  (SoftWarewolf). If you have any of these games then let us know to help us complete our Halloween collection!
In other news, hellzy has posted Welcome to Bullet Hell - Arena Demo which is "yet another older build of my first game, obviously with less features and polish than the final release. But it also includes some cut content as well". The other versions of the game are Welcome to Bullet Hell (2018) and Welcome to Bullet Hell - 2017 Edition. Play them all to compare and contrast!
P.S. If you haven't got Clicktam Fusion 2.5 yet, it is currently available at a 50% discount!