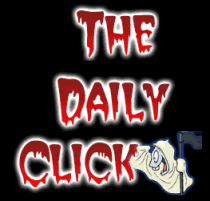 To take part of the competition, submit your freeware game to The Daily Click on or before Sunday the 22nd of October. To accommodate time zones, this is being calculated as 6am on 23rd October UTC and make it clear that the game is being submitted as part of this competition within the game description.
UPDATE: Everyone has been given a 1 week extension to Sunday the 29th of October (so get your submission in by 6am UTC on Monday 30th of October).
First place prize is a special tag at The Daily Click, DC Points, listing as a GOTM winner and fully bragging rights.
Other valid entrants will get some DC points and a tag to show that they participated.
Theme and judging
The theme for competition is 'Replayable Halloween boss battle'. Replayable means "suitable for or worth playing more than once". How you try to achieve this is up to you.
Judge(s) will provide a review of each game and rank them. The rankings will take into account gameplay, creativity and use of the theme. The game which the judge(s) give the highest collective ranking will be the winner. If you wish for your game to be unranked, say so in your submission.
You can re-use art assets and engines from previous games, but make it clear where you do so in your game submission. A more transformative use is likely to be ranked higher in terms of creativity than a simple re-hash of a previous boss battle, but creativity is only one of the ranking criteria.
If you wish to make your case for why you think your game should be ranked highly against the various criteria then you are free to make your case within your submission or in a DC Mail to Joshtek. This will be taken into consideration and where relevant will be discussed in the results post.
Standard rules
Within the game itself, please state that the game was made for this competition and list who the author(s) are.
Games should be made using Clickteam software (e.g. Fusion 2.5).

If you wish to request a deadline extension for extenuating circumstances then please let us know as soon as possible. Late submissions can be refused or could be ranked lower due to their lateness.
...AND IN OTHER NEWS
The much anticipated Knight's Quest RPG Beta Build 1 has been released by BigAl0104
Comments from the Author:
"This is Beta Build 1 of the game. More beta builds to come in the future. In a far away land, there exists a kingdom called Damonia. In it, lives a king known an King Dederic, and his beautiful daughter, Princess Amelia. She is desperate into wanting to marry a special someone, so when the news broke on the other side of the land, an evil wizard named Karlov hears about the princess wanting to get married. Karlov plans to capture the princess, and bring her back to his lair so he ends up marrying her. It is now up to Knight Richard to travel across the land to Karlov's lair, and rescue the princess. Throughout the game, you will fight all kinds of monsters in a turn based RPG battle system. Defeat enemies, level up your stats, buy items and equipment, everything you need to progress further to reach Karlov's lair."
Click here to download the game and read its comments.
And for those who want to create something that is not Halloweeny, we have the Old School Fusion 2.5 Game Jam hosted by Martin Frank. The competition opens today and submissions are due in 1 week.