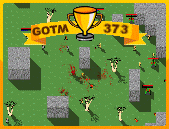 Congratulations to James Luke for winning Game of the Month #373 with Soldier Men 2. Thanks to everyone who submitted games.
Kliktopia has added a number of games to its archive and has launched a page for Halloween games.
Kliktopia has also released Klik & Replay Episode #1 - Halloween Games on YouTube, which follows in the tradition of The Daily Click's Klikcast. Happy Halloween everyone!