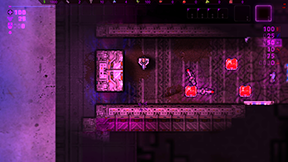 Alien Seed Games (I'll call him ASG, it's easier abbreviated!) has been a long-time user of Multimedia Fusion, having created several games over the years, but unfortunately never getting around to finishing them. Trust me, I know the feeling on that!

Anyhow, three game projects have been submitted by ASG. All look very colourful and intriguing. I've highlighted his submission Temple DacKtrim out of the selection for front page coverage, because it features a random level generator, which is a rather impressive feat of coding, plus it looks good fun to play, albeit in skeleton form. Let's give ASG some motivation to finish his games as I'd love to see this finished :D

Comments From The Author:
"Temple DacKtrim is a top-down shooter with a random level generated every play from a list of set pieces. it was meant to be a kind rough like game with lots of re play so there not much game play sorry just ground work for a bigger more complex game."