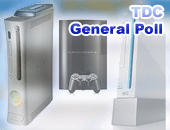 You've had a week to decide what your favourite new feature of TDC is and now it's time for the results! With 42 votes, the Projects section is at top! In second place with 27 is the new rating system and next was the new improved reply toolbox with 5 votes.

To view the full results click here.



.:THIS WEEK'S POLL:.

What is your favourite current gen console?



We have had similar polls but they never got to the point. We all know what your favourite games console growing up was and who your favourite video game character is but now let's fast forward to now and check out what current gen console you like best! Is it the Playstation 3, Xbox 360 or the Wii?