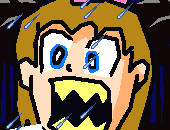 I have no idea what this game is about. All I know is that it's from the mind of
Jonathan Smeby
, and frankly that it scares me a bit. It's
Teh Forum Game
[sic], a game that allows you to play through a forum thread and, in a lesser way, through the brains of the mad people that contributed to it.
Comments from the Author: Oooooh hecks yeah! The epic release of Teh Forum Game is here! An experimental game of awesumness that proposes the question: What would it be like to play a forum thread? Well, to find out a crack team of game designers was formed to become 'TEH FORUM TEAM'! The game tells the tragic tale of Flerppy, a genetically engineered creature made for the sole purpose of undergoing terrible experiments in the internet for the sake of science!
Click here to download the game and read its reviews.