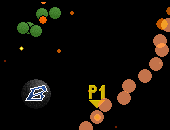 My promise of regular front page updates couldn't last too long, but fortunately my computer is now working again (don't ask me why, I haven't a clue).
Atomic Arena 2
is another game with a decidedly black screenshot, and it was uploaded by
Daiz
of Team Fire Games.
Comments from the Author: Atomic Arena is retroish arcade-survival game, where the goal is to score as high as possible. You take the role of an atom and guide it in two-dimensional space avoiding spawning antimateria and destroying it with various bonuses that can be collected from the playfield.
Click here to download the game and read its reviews.