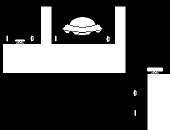 I remember that there was something of a fashion for 1-bit and 2-bit colour games when I first discovered the site.
Super Juno
, a platformer from
sylzayz
, is of the 1-bit variety - it's soon to have an online scoreboard as well.
Comments from the Author: Super Juno is a simple platformer where you collect coins and race to the finish! You will be suprised how much a 2 color game can be fluid and fun.
Click here to download the game and read its reviews.