Ladders 1
Author:
Ricky
Submitted:
27th April, 2007
Favourites:
2
Genre:
Platformer
Downloads:
342
Rated:




Edited By Ricky on 6/11/2009

Edited By -Nel- on 4/30/2008

This is a platform game. Game play is traditional (jumping on head to kill etc…) with a variety of enemies who act differently. The game has 8 levels which are chosen at random from a set of 32 levels (4 possible for each frame) and two boss levels. The goal of the game is to get to the exit.

Controls:
Left arrow- go left
Right arrow - go right
Ctrl - JUMP, next frame
Up arrow - climb ladder
Down arrow - go down ladder, FALL FASTER (you will need to do this in the levels with bullets)
ESC - exit game, go to title screen (don't do this is you want to save, instead get a game over and go to the score screen)

This game is more about thinking than it is about reflexes in later levels. Many of the enemies like to kill each other which you should use to your advantage. This is the first time I'm submitting a game with 100% my own graphics. Half of the sounds are from me (other half are from the tgf CD) and the Music is from One Piece.

Oh Yeah! #1 reason to download this game. BLOOD! LOTS AND LOTS OF BLOOD!





Review This Download







http://www.gamebuilder.info/world/content/ladders-1 (8.02 mb )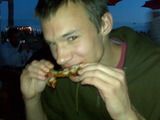 Ricky
loves Left For Dead 2
Registered
12/28/2006
Points
4085








Is this worth a look? Let others know!

Favourite