Review: The New Hungry Fish!
| | |
| --- | --- |
| Author: | Ricky |
| Added: | 8/24/2007 |
| Overall: | |
| Average: | 9/10 |

The New Hungry Fish is another Shark Shark/Feeding Frenzy/eat or get eaten clone, but that does not mean its not original. This game simply improves on a classic.

The overall presentation of the game is very professional. Nothing seemed out of place.

This game has beautiful graphics, complimented by effects such as parallaxing water, bubbles, blood, and dismemberment. The water looks very realistic, however if you look closely, you can see the lines between the tiles. Its very subtle though.

The games beautiful graphics come at a price for older computers such as mine (Athlon Xp). The frame rate was low, but playable. Because most people have better computers than mine, and because this wouldn't even be a problem if Click Team gave us hardware acceleration, I'm not docking any points for it.

No music played during the game. Instead, you get ambient ocean sounds. They sound really good and not repetitive. Plus they are in stereo. Even though its not normally that noisy under water in real life, it fit the game well.

Sound effects are simple eating noises which vary every time you eat a fish. They are good.

The game play is solid and very enjoyable. Unlike fisu, the game is actually fair. Fish don't spawn on top of you. The amount of room that you have on the screen gives you ample opportunity to avoid dieing.

Other parts of the game unlock as you play which helps make you want to keep playing. There is an online score system, but I was disappointed not have my own personal score system as well. Nevertheless, these features give you a reason to keep playing.


| | |
| --- | --- |
| Presentation: | |
| Gameplay: | |
| Graphics: | |
| Sound and Music: | |
| Lastability: | |
| Overall: | |

Download This Game
No comments have been posted for this review.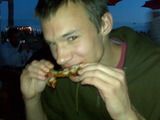 Ricky
loves Left For Dead 2
Registered
12/28/2006
Points
4085